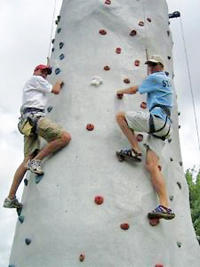 Climbing Walls, Portable in Calgary 3 hours
Age Group: all ages with Supervision
Attendants: 1-2





Please call or email to reserve this item.

FOR LAST MINUTE BOOKINGS, DAY OF EVENT OR LESS THAN 24 HOURS.
PLEASE TEXT THE OFFICE.
403-651-1019
Info@tubys,ca

please request a qoute for price on this product by contacting the office
The posted rate for this product is for up to 4 hrs.
If your event runs longer than 4 hours the price should change during the check out process.
If you are attempting to book over multiple days it would be best to contact the office to provide an accurate quote that may include any special or discounts available.
Portable climbing walls offer a unique and exciting opportunity for people to experience the thrill of rock climbing at your event. Past experiences show that portable climbing walls draw great attention and crowds to a variety of events. With a Tubby's / ORA portable wall, all the adventure and thrills of climbing can be had in a safe environment at almost any location.
With a height of 26 feet and with multiple paths up a wall, the portable climbing wall can prove challenging for people of all ages and abilities.

Knowledgeable Staff
With our well trained staff, a portable wall can accommodate up to 100 climbers per hour. Many staff members are veteran climbers themselves, and many of them have years of experience climbing both indoors and out.

Technical Requirements
Ground area must be flat & level and clear of any overhead trees/wires etc.
We must be able to pull the trailer into position with a fullsize pickup truck.
All climbers must sign a waiver to climb.

We run rain or shine.

.