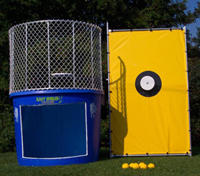 Easy Dunker Dunk Tank Sat or Sun
Age Group: Adult supervision
Outlets: n/a
Tubby's has been serving Calgary & Area since 1982.
We must be doing something right !
FOR LAST MINUTE BOOKINGS, DAY OF EVENT OR LESS THAN 24 HOURS.
PLEASE CALL/TEXT THE OFFICE.
403-651-1019
The posted rate for this Product is up to 4 hrs.
If you require a longer rental period and have listed it,
during the check out process the rate will adjust accordingly.



We may be able to make allowances for, Early Set up, Longer Events, Discount Package Pricing etc.

Easy Dunker Dunk Tanks Are On Special for the Month of May !
Just like you see in Movies or on T.V.
Same style of Dunk Tank used in some Theme Parks.
A Summer Fun Icon.
Clear window on the front, so you can see your Boss,Teacher, Mom, Dad, Brother, Sister, Local Politician, Sport Personality in the water.

Very mobile, can moved into tight locations.
Add optional, Heat on Fill.Available only from from Tubby's Party & Event Rentals.



Check out our

Mid Week
all summer long Special for great pricing on Dunk Tanks Mon-Thur.
May And Friday Special
Does Not apply to Stampede Bookings.
Email for Stampede Rates


Check out
Fun Mirrors
, lot of pictures being taken and they can be branded, meaning lots of branding for your group, event, brand from all those pictures


Dunk Tanks are an excellent add on to any Stampede Party or Charity Fund Raiser.
Dunk Tanks from Tubby's Party & Event Rentals have been used to raise funds in the tens of thousands of dollars over the years for charity.
Book a Dunk Tank from Tubby's, the only company in Calgary to have multiple dunk tanks to fit most sizes

and they all can be

Heated.
Are you looking at renting a Dunk Tank in Calgary or a Reverse Dunk Tank rental for a Birthday Parties, Bat Mitzvahs, Bar Mitzvahs, Family Reunions, Block Parties, Stampede Party or Event? A Larger Inflatable rental for a larger Community or Corporate events?


Commercial General Liability Insurance? Tubby's Yes !
WCB Coverage ? Tubby's Yes !
Commercial Built Inflatables? Tubby's Yes !
Commercial Built, Designed Equipment? Tubby's Yes !
Proper, Safe Set up, i.e. Staked, Sandbagged,Anchored. Tubby's Yes !


We strive to be competitive. We try to compete on all levels.
Not only on Price, but quality of products. i.e. well built, safe, first generation properly designed inflatables/games,equipment. Proper Insurance, included WCB coverage, and OUR level of service, Since 1982.

If you are being offered a better price, please contact us and allows us the opportunity to Beat the price.