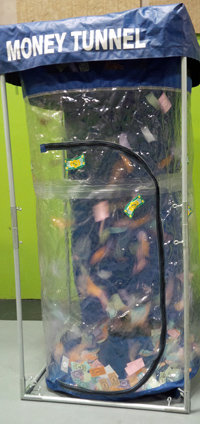 Soft Side Portable Money Tunnel Day Rate
Age Group: all ages with supervision




FOR LAST MINUTE BOOKINGS, DAY OF EVENT OR LESS THAN 24 HOURS.
PLEASE TEXT THE OFFICE.
403-651-1019
Info@tubbys.ca

The posted rate of $250.00 for this product is up to 7 hours.
If your event runs longer than 7 hours or you want to book over multiple days
it would be best to contact the office so an an accurate quote can be provided including any special or discounts available
You might have seen a Cash Cube / Money Tunnel at the Calgary Stampede, or some other festival.

Check out the Cyclone Cash Cylinder
or
Soft Side Money Tunnel With LED Sign and Lights


Step inside the cash cube, the blower is turned on, Money starts blowing around, grab some cash, well, try to grab some !
You are grabbing at the Money flying around, 1's, 5's, 10's, 20's, 50's, 100's, and there goes the Big Bill a 1000's and than it is gone !
It is over there, no it is there, grabbing, stuffing as much as you can in the allotted time
Great for prize give a ways, Lots of fun for Community or School Events,Trade Shows, Grand Openings, Calgary Civic Events.

Excellent way to draw attention for Trade Show Booths, Auto Dealerships, RV Dealers, Used Car Lots, Radio Station Onsite Promotions, Promote new Products, Drive Traffic for new Location.


Money Tunnels, Cash Cubes, Fun Cool Ways to Promote Your Products.

Requires 110 volt.
Due to use, maintenance and Inventory, item may appear with different colours, designs & or finishes.
Please contact the office and request specific information if required.
We rent, only well made, properly designed and built Inflatables, Games & Equipment
for the commercial rental market, from the industry's leading manufactures.

Tubby's will Match or Beat any Quoted or Listed price on the Same or Similar Equipment.
Certain Conditions Apply.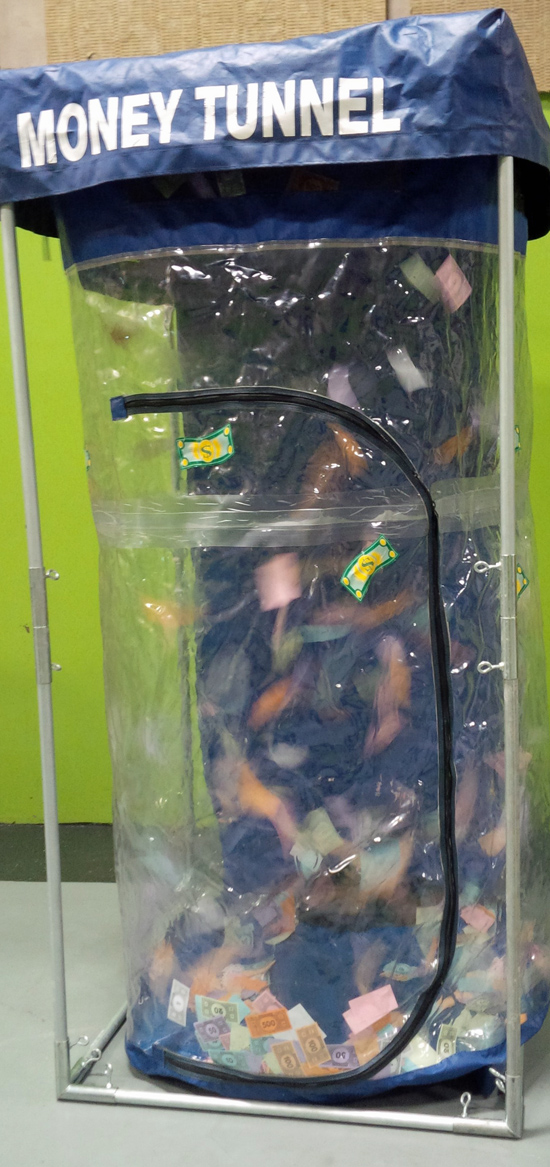 Some other great Promotion Items are;

Prize Wheels, Tube Dancer, Wavy Guys, Sky Dancers,