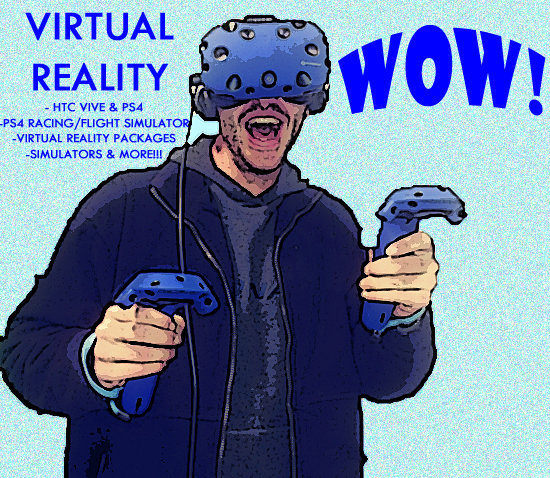 Virtual Reality Package
Setup Area: 14' x 14' x 10'
Age Group: 13+
Attendants: 2





$1,450.00

Please call or email to reserve this item.



FOR LAST MINUTE BOOKINGS, DAY OF EVENT OR LESS THAN 24 HOURS,
PLEASE TEXT THE OFFICE.
403-651-1019
Info@tubbys.ca

The posted rate for this product is up to 4 hrs.
If your event runs longer than 4 hrs. the price should change during the checkout process
If you are attempting to book over multiple days it would be best to contact the office to provide an accurate quote that may include any special or discounts available
What is HTC Vive?
With Vive, you can look and move around a room-scale virtual environment. Because your physical location is tracked, you can explore and interact within immersive fantasy worlds.
What does our HTC Vive package include?
Our VR rental package includes HTC Vive headset, controllers, base stations, HD screens, high performance computers preloaded with most popular VR games and 360° videos. In addition, you will have one or two of our dedicated co-organizers to arrange the space, set up and tear down the equipment, guide you through the content and expert support while you are using it.

HDC version
2 person station complete with
2 external monitors for the crowd to view the players field of vision,
"see what they see"

How much does it cost?
These are minimum charges that include up to a 4-hour event:
One headset - $799
Two headsets - $1450
What are the space requirements?
Since our clients provide the space, here are the clear area requirements to enable 360° room-scale motion tracking:
Minimum - 5ft x 6.5ft or 1.5 m x 2m
Maximum – 10ft x 10ft or 2.5m x 3m

Are there any user limitations to participate in VR experience?

Children under 13 must be supervised by adults. Our recommended participants heights is 48".
We are ready to cover you on the stressful part!! We will bring, install, and instruct on how to use the equipment. The only part left is for you to enjoy it!!
Consult your doctor before using the product if you have pre-existing serious medical conditions (such as a heart ailment), conditions that affect your ability to safely perform physical activities, psychiatric conditions (such as anxiety disorders or post-traumatic stress disorder), or if you are pregnant or elderly. Do not use the product if you are sick, fatigued, under the influence of intoxicants/drugs, or are not feeling generally well, as it may exacerbate your condition.

Please contact us directly for custom packages or events.
Due to use, maintenance and Inventory, item may appear with different colors, designs & or finishes.
Please contact the office and request specific information if required
We rent, only well made, properly designed and built Inflatables, Games & Equipment
for the commercial rental market, from the industry's leading manufactures.

Tubby's will Match or Beat any Quoted or Listed price on the Same or Similar Equipment.
Certain Conditions Apply.