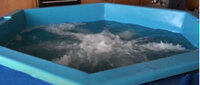 Backyard Portable 8-9 Person Nov 1- May 15
Actual Size: 8' x.9'
Setup Area: 8' x 17'
Outlets: 1




Tubby's Hot Tubs 2021 Tubby's continues as we have since 1982 to be the Industry Leader in the Portable Hot Tub Rental market in Calgary.
Yes 1982. We are pleased to announce we have added 2 new versions of Portable Hot Tubs to our inventory.
STAND-ALONE ELECTRiC's & HYBRiDs Both require 2 separate 120 volt 15-amp circuits. One for the Heater & one for the Pump. By utilizing 2 separate circuits the Heater can maintain Temperature. In cooler temps Continuing to HEAT water when called for while the Jets are on High Speed. Our STAND-ALONE ELECTRiC Utilizes a 1.4 KW Heater (2 circuits) vs. 1.0 kw in our Roto Spas which only requires 1 circuit. The heater on our Roto Spas do not engage with the jets on High Speed. Softubs lack an actual separate heater, they use a heat recovery system. The HYBRiDs Are a combination of STAND -ALONE ELECTRiC & Propane Fired Booster. The HYBRiD are intended for cooler or winter conditions. Or for when ever parties are allowed, again and you want the Tub to stay HOT so everyone can enjoy it. The Electric Heater in the HYBRiD is intended to "maintain" temperature while the tub is just sitting there, unoccupied, with the cover on. However, in colder, nonfreezing temperatures, fall and spring Our STAND-ALONE ELECTRiCs will generally be able to keep the tub HOT while being used. Even with the Jets on High Speed, this system allows the HEATER to HEAT. However, we do have cold nights and it sucks to have to get out of the Hot Tub because the water is cooling. That is where the Propane Fired Booster comes into play. In Colder or Winter conditions the Propane Fired Booster will keep the tub HOT. HOT, Not just a Warm Bath with Friends For longer periods of use (parties) if ever allowed again and use during colder (freezing) temperatures. We know, given our experience, doing this since 1982, People like jets on high and the tub to stay HOT. We know this system delivers this. A hot tub that the jets can be on high and the water temperature will not cool, even in the winter. We know that the Propane Fired Booster will keep the tub HOT so you can use the tub and not have to get out because the tub is getting cold. After all you want a Hot Tub, NOT a Warm bath with friends. The HYBRiDs will lower your costs for winter, fall and spring rentals as compared to STAND-ALONE PROPANE fired systems while still providing you with a Tub that will stay HOT. Our system using 2 circuits allows for the heater to be heating the water while the jets are on high. BIG DIFFERENCE. We offer 2 styles of Hot Tubs. Portable Back Yard Hot Tubs. HYBRiD's combination Electric / Propane Heated, STAND ALONE ELECTRiC and STAND-ALONE PROPANE heated. As well as Trailer mounted Hot Tubs. Bigger tubs, not as mobile/ portable. I encourage you to read the information below as it provides context to the level of service that we provide and the quality of products that we offer. COVID 19 In addition to our rigorous cleaning process for our hot tubs, we have added to the process additional steps due to COVID 19. Specifically, Disinfectant certified by Health Canada for COVID 19. The disinfectant we use is manufacture by Chemfax right here in Calgary. We carry 2 million CAD Commercial General Liability insurance and Legally required WCB coverage. For your rental. We require electricity for the pump/jets 120-volt 15-amp circuit. The STAND-ALONE ELECTRiC and HYBRiDs hot tubs all will require a second separate circuit. Water to fill the tub as in a garden hose connect to a tap. We offer as an option for all of our tubs to be heated while filling using our Heat on Fill System. This starts at $79.00 This means that your tub will be close to be ready to get in to when it is full. Yes, we know our tubs cost more then tubs from others. But you have a hot tub that you can enjoy, rather than a warm bath with friends. CHEMICALS Included with your rental. Chlorine Test Kit, To test and ensure the proper levels of sanitation are present, unless you don't care about what you are sitting in. QUICK CLEAR, this super highly concentrated clarifier adds brilliance back to spa water and helps your filter to remove suspended particles. SPA PERFECT, SMART Zyme™ technology reduces unwanted non-living organic contaminants such as: body oils, cosmetics, suntan lotions, hair products and so much more! No more waterline rings, cloudy water or unpleasant odors. inSPAration spa Fragrances; Add a capful or two to the water, think or aroma therapy.