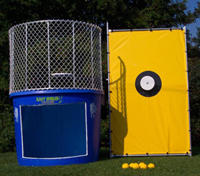 Easy Dunker Dunk Tank Midweek Summer Special Mon-Tue-Wed-Thur-RESIDENTIAL
Outlets: n/a
Age Group: Adult supervision
Attendants: 1





TBD

Please call or email to reserve this item.

THIS DEAL DOES NOT APPLY TO JULY RE STAMPEDE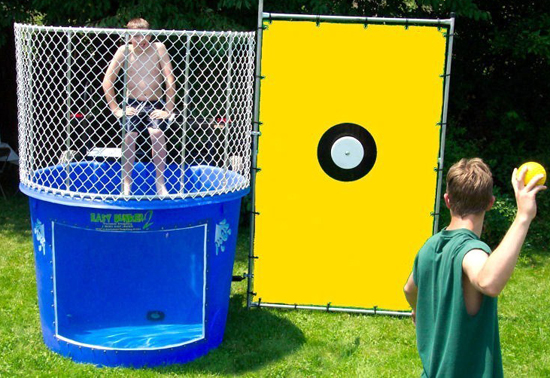 | | |
| --- | --- |
| Birthday / Residential Rates | Corporate / Non Residential Rates |
| up to 4 hours $325.00 | up to 4 hours $350.00 |
| up to 7 hours $375.00 | up to 7 hours $400.00 |
For package discounts or orders of multiple items send your request to
info@tubbys.ca
Delivery may be in addition to the rental of the item.
Deliveries to City parks & certain locations, i.e. downtown, parks, Locations where
event location is not accessible for delivery to set up location directly from the
delivery vehicle, may be subject to additional charges.
All Non grassy outdoor set-ups for inflatables require tarps and sandbags for
anchoring purposes, charges may apply.
Some items require power, Some items require water.
A credit card is required to be on file for any additional charges and for Security/damages for all bookings. This includes excessive cleaning.
We offer different payment options
Visa, Mastercard, Etransfer, EFT, Cash or group/corporate cheque, with prior
approval.
Credit card transactions are subject to a 4-5.5% transaction fee.
A 50% deposit is required to secure all bookings.
Cancellations (deposits) due to weather of orders of a single inflatable are
refundable prior to dispatch of delivery vehicle, less a $25.00 admin fee.
Method of payment for the balance of the invoice is to be confirmed 3 business days
prior to event.
Scheduled delivery hours are from 9 am-9 pm (or 30 min before sunset on outdoor
rentals).
Additional Charges apply for delivery/pick up outside these hours.
An optional Damage waiver of 10% will be added to each rental. It is Optional and
you can request that it be removed from the invoice. Deleting the coverage must be
done prior to the order being confirmed.
The damage Waiver covers any damage that occurs during normal use of the
equipment.
Does not include damage due to negligence.
For cancellations, changes to order with multiple items follow the link below for
complete details.
For complete terms and conditions, including cancellation terms follow this link
Order minimums of $100.00 apply.
You may still order items of less than $ 100.00.
However there may be additional charges on these items.


The up to 7 hour rate is $365.00 for midweek bookings.
Back Drops may Vary in colour.

If you are attempting to book over multiple days it would be
best to contact the office to provide an accurate quote that may include any special or discounts available

Easy Dunker Dunk Tanks Are On Special for the Month of May!
Just like you see in Movies or on T.V.
Same style of Dunk Tank used in some Theme Parks.
A Summer Fun Icon.

Clear window on the front, so you can see your Boss, Teacher, Mom, Dad, Brother,
Sister, Local Politician, Sport Personality in the water.

Very mobile, can moved into tight locations.
Add optional, Heat on Fill. Available only from Tubby's Party & Event Rentals.
Incredible Spring Prices!!

Email for any additional Spot Discounts, Include Date, Location & Event Times.
The Midweek Special is for Calgary Bookings only
Monday- Thursday
Fridays are $335.00 for up to 4 Hours


Regular price is $355, applies to all Sat or Sun bookings in June, July & Aug
Special Rates Do Not apply to Stampede Bookings.
Email for Stampede Rates

Check out Fun Mirrors, lot of pictures being taken and they can be branded,
lots of exposure for your group, event, brand from all those pictures.
Dunk Tanks are an excellent add on to any Stampede Party or charity fund raiser.
Dunk Tanks from Tubby's Party & Event Rentals have been used to raise funds in
the tens of thousands of dollars over the years for charity.
Book a Dunk Tank from Tubby's, the only company in Calgary to have multiple dunk tanks
to fit most sizes and they all can be Heated.
Are you looking at renting a Dunk Tank in Calgary or a Reverse Dunk Tank rental
for a Birthday Parties, Bat Mitzvahs, Bar Mitzvahs, Family Reunions, Block Parties, Stampede Party or Event?
A Larger Inflatable rental for a larger Community or Corporate events?

Tubby's will Match or Beat any Quoted or Listed price on the Same or Similar Equipment.
Certain conditions apply.


FOR LAST MINUTE BOOKINGS, DAY OF EVENT OR LESS THAN 24 HOURS,


PLEASE TEXT THE OFFICE.




403-651-1019


Info@tubbys.ca