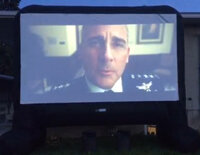 Inflatable Outdoor Home Theater PROJECTOR ONLY
Enjoy a movie out under the stars, in your back yard, front yard, drive way.
High quality High Lumen Projector ONLY.
Laptop
All Available
We offer a High Lumen Projector to allow viewing earlier in the evening, before it gets completely dark.
A Laptop or other device is required to either play your content or connect your streaming service to facilitate play of your content.
Hook up game consuls, Play video games, Stream from your smart phone.
Live sports as they come back on.
Stanley Cup Playoffs ! ! !
The picture below is to illustrate that the image can be seen even at early dusk.
This is in case real little ones are part of your family.
Special Promo Packages starting at