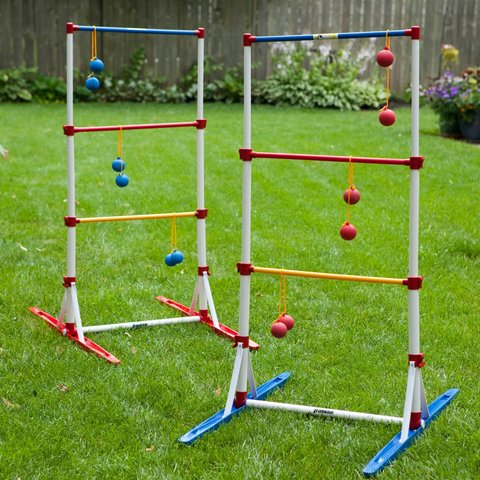 Ladder Golf- Bolo Golf




Please call or email to reserve this item.

| | |
| --- | --- |
| Birthday / Residential Rates | Corporate / Non Residential Rates |
| up to 4 hours $65.00 | up to 4 hours $65.00 |
| up to 7 hours $135.00 | up to 7 hours $135.00 |
Ladder Golf is played with 2 or more players or teams. Each player has 3 golf ball bolas. A bola is 2 golf balls attached by a nylon rope. The object of the game is to wrap your bolas around the steps of the ladder. The ladder consists of 3 steps, a top, middle and a bottom step.
PRICES ARE EXCLUDING GST
For package discounts or orders of multiple items send your request,using this link

Some items include delivery, Some do not. Even within the city limits.

All items include set up and take down within the city limits.

Delivery charges may apply on other rentals.

Deliveries to City parks & certain locations, ie downtown, parks, Locations where event location is not accessible for delivery to set up location directly from the delivery vehicle, may be subject to additional charges.

All Non grassy outdoor set-ups for inflatables require tarps and sandbags for anchoring purposes, charges may apply.

A credit card is required to be on file for any additional charges and for Security/ damages for all bookings

We offer different payment options

Visa, Mastercard, Amex,Cash or group/corporate chq. with prior approval.

Credit card transactions are subject to a 3% transaction fee

A 50% deposit is required to secure all bookings, Fully refundable, less a 25.00 fee if cancellation is made 14 calendar days prior to the rental.

Cancellations due to weather of orders with a single inflatable are fully refundable prior to dispatch of delivery vehicle.
For orders with multiple items or other than inflatables, follow this link

Full payment/ balance is due 3 business days prior to event

Scheduled delivery hours are from 9 am-9 pm (or 30 min before sunset on outdoor rentals)

Additional Charges apply for delivery / pick up outside these hours.
An optional Damage waiver of 10% will be added to each rental. It is Optional and you can request that it be removed.

The damage Waiver covers any damage that occurs during normal use of the equipment.

Does not include damage due to negligence.
Order minimums of $100.00 apply.
You may still order items of less than $ 100.00.
However there may be additional charges on these items.


If you are attempting to book over multiple days it would be best
to contact the office to provide an accurate quote that may include any special or discounts available
Tubby's will Match or Beat any Quoted or Listed price on the Same or Similar Equipment.
Certain Conditions Apply.
Playing the Game:
Prior to game play a line must be set 5 paces from the ladder. This is the called the toss line.
The official toss line is 15 feet away but most players measure 5 paces from the game ladder to set the toss line. This allows for a closer toss line for children's games. Ladder Golf is played in rounds, each round consists of all players tossing 3 bolas. A coin toss is used to decide which player or team will toss first.
The first player must toss all 3 bolas before the next player is able to toss his or her bolas.
Bolas can be tossed in anyway the player chooses, as long as they are tossed individually and
can be bounced off the ground. The winner of the round earns the first toss in the next round.
Games are played to an exact point total of 21. In order to win, a player must be the only one to
score exactly 21 points after the completion of a round. If a player goes over the exact point total,
that players points for that round do not count. For example: A player with 18 points needs 3 points
to get the exact score of 21 in order to win. If that player has 5 points hanging on the ladder
after all the players have tossed all strands, none of those points count and the player will enter
the next round with 18 points again needing 3 points to win. In the case of a tie, the players that tie
will play as many overtime rounds as needed until one player ends a complete round
2 points ahead of the other player. The 2 point rule only applies in overtime rounds.
During regular play any player can win as long as that player is the only one to score an exact total
of 21 points at the end of that round no matter how many points the other players have.
FOR LAST MINUTE BOOKINGS, DAY OF EVENT OR LESS THAN 24 HOURS,
PLEASE TEXT THE OFFICE.
403-651-1019
Info@tubbys.ca