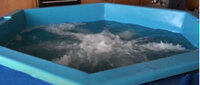 Large Portable 8-9 Person
Actual Size: 8' x.9'
Setup Area: 8' x 17'
Outlets: 1





TBD

Please call or email to reserve this item.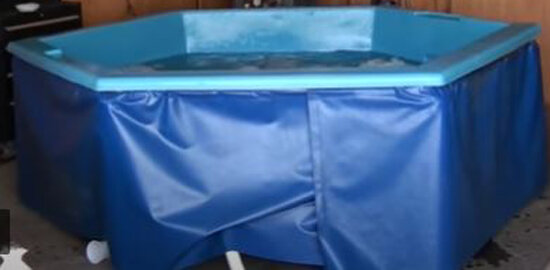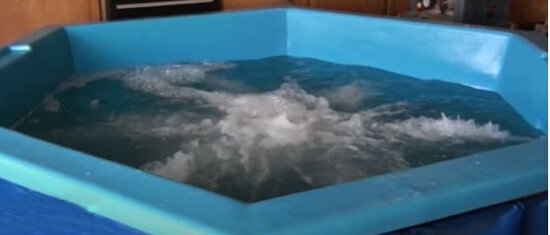 We offer 2 styles of Hot Tubs.
Portable Back Yard Hot Tubs and Trailer mounted Hot Tubs.
COVID 19
In addition to our rigorous cleaning process for our hot tubs, we have added to the process additional steps due to COVID 19. Specifically Disinfectant certified by Health Canada for COVID 19.
The disinfectant we use is manufacture by Chemfax right here in Calgary.
We carry 2 million CAD Commercial General Liability insurance and Legally required WCB coverage.
From you, we require electricity for the pump/jets 110 volt 15 amp circuit and water to fill the tub.
All of our Tubs are heated by a propane-fired heater.
This means that in colder temperatures the tub can be controlled and maintained.
Hot, not warm. Hot Tubs heated by PROPANE give you reliability over Tubs heated by electricity.
Yes, they cost more, but you have a hot tub that you can enjoy, rather than a warm bath with friends.
The cost of heating the tubs is included in the price and not seen on your utility bill.
CHEMICALS Included with your rental;
Chlorine Test Kit, To test and ensure the proper levels of sanitation are present, unless you don't care about what you are sitting in.
QUICK CLEAR , This super highly concentrated clarifier adds brilliance back to spa water and
helps your filter to remove suspended particles.
SPA PERFECT, SMARTZyme™ technology reduces unwanted non-living organic contaminants such as: body oils, cosmetics, suntan lotions, hair products and so much more! No more waterline rings, cloudy water or unpleasant odors.
inSPAration spa Fragrances; Add a capful or two to the water, think or aroma therapy.
Each additional week comes complete with an additional Propane tank, filter, and replenished chemical kit. As well as underwater LED lighting which can also be controlled via remote.
Portable Hot Tubs 600 imperial Gallons / 2720 Litre
Approximately 8-9 person tub often called these 9-12 person
1 Day $ 445.00
Week End 3 days $ 635.00
6 days $ 775.00
These rates do not apply at Christmas or NY
These tubs are hard shell tubs with molded seats at or near the bottom of the tub.
They come off the trailer and sit right on the ground.
Portables require the following access or they may be placed in into a garage.
These are awkward.
They can only be moved off the trailer maintaining the horizontal position from truck/trailer into the location. In some case with advance notice and pictures provide we may be able to tip them on edge and roll them through a gate or opening. Provided the tub can be returned to the horizontal position immediately once it is through the opening.
Typically, they sit on a flat surface, the same level that the support equipment can be placed on.
They take up space of approximately 90" x 105 ".
Six feet off one side is the support equipment that requires approximately 4' x 5' plus a spot for a propane tank. As well as underwater LED lighting which can also be controlled via remote.
There is 3% admin for CC payment.
Other payment options are available; pay by cash or etransfer, however, a CC required for deposit.
GST is in addition to all rates quoted.
Keep in mind we include all the propane required to keep your tub HOT, not just warm while you have it.
That means if due to the weather you require additional propane it will be delivered without additional cost.
We just ask that you use the cover to help keep heat in.

If your event runs longer than 24 hrs. the price should change during the checkout process
If you are attempting to book over multiple days it would be best to contact the office to provide an accurate quote that may include any special or discounts available

Ideal for backyards, these tubs are quite portable.

Due to their larger size, these tubs need to be turned on their side for delivery, so access points are required to be of certain dimensions.

The 6 person tub requires an access point of at least 3' or 90 cm in width and a pathway of at least the same width. Overhead access must be at least 88" or 2.2 meters.

The 8-9-person tub needs an identical width in terms of access but requires overhead access of 10' or 3 meters.
To be set in place for normal operation, there must be sufficient space in the yard.

Incredible Spring & Summer Prices!!
Email for additional Spot Discounts, Include Date, Location & Event Times.
FOR CHRISTMAS AND NEW YEARS RATES CONTACT THE OFFICE
OR



FOR LAST MINUTE BOOKINGS, DAY OF EVENT OR LESS THAN 24 HOURS,
Promo Prices, rates may change or be withdrawn without notice.
Rates are not guaranteed until a booking is made.


PLEASE TEXT THE OFFICE.
403-651-1019
Info@tubbys.ca