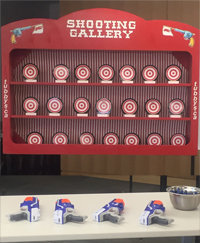 Nerf Shooting Gallery C/W Enclosure, Table, Nerf Guns, & Ammo. Starting at . .
Actual Size: 4' x 7' x7'
Setup Area: 10' x 10' x 8'
Outlets: 0
Age Group: Adults, teens, kids with supervision
Attendants: 1





Open this page for basic prices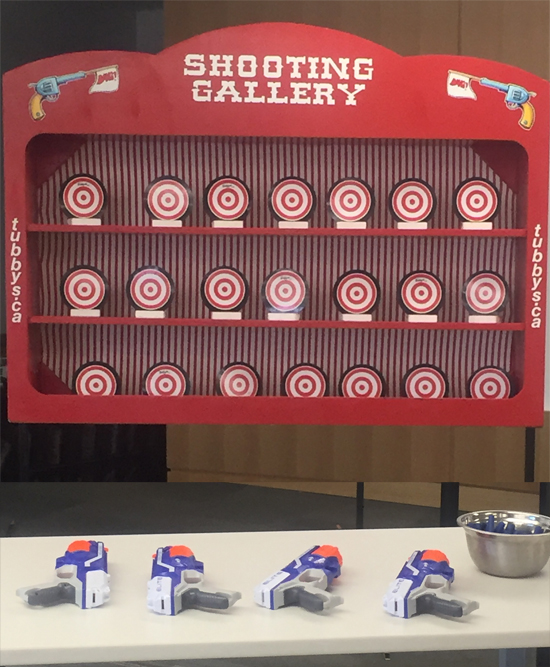 Check Out The
Trade Show Nerf Shooting Gallery
Birthday / Residential Rates

Corporate / Non Residential Rates

up to 4 hours $275.00

up to 4 hours $325.00

up to 7 hours $275.00

up to 7 hours $375.00

Events are on a Per quote bases.

Email info@tubbys.ca

Included date, times, location
& projected # of participants

Events are on a Per quote bases.

Email info@tubbys.ca

Included date, times, location
& projected # of participants
A 10 x 10 tent is required for this game when played out doors which is included in the price.
Please make sure you have room to accommodate for this service at your event.
For indoor Events this game is place against a wall and cordoned off arround the perimeter.
PRICES ARE EXCLUDING GST
For package discounts or orders of multiple items send your request to
info@tubbys.ca
Delivery may be in addition to the rental of the item.
Deliveries to City parks & certain locations, i.e. downtown, parks, Locations where
event location is not accessible for delivery to set up location directly from the
delivery vehicle, may be subject to additional charges.
All Non grassy outdoor set-ups for inflatables require tarps and sandbags for
anchoring purposes, charges may apply.
Some items require power, Some items require water.
A credit card is required to be on file for any additional charges and for Security/damages for all bookings. This includes excessive cleaning.
We offer different payment options
Visa, Mastercard, Etransfer, EFT, Cash or group/corporate cheque, with prior
approval.
Credit card transactions are subject to a 4-5.5% transaction fee.
A 50% deposit is required to secure all bookings.
Cancellations (deposits) due to weather of orders of a single inflatable are
refundable prior to dispatch of delivery vehicle, less a $25.00 admin fee.
Method of payment for the balance of the invoice is to be confirmed 3 business days
prior to event.
Scheduled delivery hours are from 9 am-9 pm (or 30 min before sunset on outdoor
rentals).
Additional Charges apply for delivery/pick up outside these hours.
An optional Damage waiver of 10% will be added to each rental. It is Optional and
you can request that it be removed from the invoice. Deleting the coverage must be
done prior to the order being confirmed.
The damage Waiver covers any damage that occurs during normal use of the
equipment.
Does not include damage due to negligence.
For cancellations, changes to order with multiple items follow the link below for
complete details.
For complete terms and conditions, including cancellation terms follow this link
Order minimums of $100.00 apply.
You may still order items of less than $ 100.00.
However there may be additional charges on these items.

.
If you are attempting to book over multiple days it would be best to contact the office to provide an accurate quote that may include any special or discounts available.
Nerf Shooting Gallery
Excercise your target practice by picking up a nerf gun and aiming at the targets! This game is great for all ages. Fill the barrel with the foam nerf gun bullets, cock the nerf gun and shoot at the targets to see how many you can knock down. Compete against your friends to see who can knock down the most. To set up the game after one player has had their turn, simply just flip the targets back up manually and insert the foam bullets back into the nerf gun and play again! There are extra guns and foam bullets to keep the game going or so you can reload. This game can be played inside and outside. A great game to have at any Westen or Stampede themed events. There are 2 versions of this game mentioned below that are great for different events.
The Nerf Shooting Gallery: This version consists of a 4 foot table placed several feet away from the target board. On the table 2 nerf guns are attached to the table by string so that people do not walk away with them or shoot in directions other than the target board. The two guns available make this game eligible to play with 2 players or just 1 player. The table with the nerf guns faces the big red target board to shoot at. This area is contained inside of a 10 x 10 pop up tent to keep all of the nerf bullets inside and makes it easier for players to collect them. To play again the player must flip the targets back up manually to have a fair chance to play.
The Trade Show Nerf Shooting Gallery: This version is a more contained 1 player game that takes up a smaller amount of space, great to have at trade show like events or areas with limited space. This game is situated on a 6ft table with the target board at one end and an open area at the other to shoot at the targets. There is a net covering over the target board and table that encloses the game completely to keep the bullets contained within the space. The net is attached to the table by velcro so that players can open the net to retreive some of the nerf bullets that didn't make it to the target board. The target board has handles on the side of the board for each row so that the player can easily flip the targets back upright to play again.
Yippee and Yeee-haw! Shoot Out Some Bullseyes, Knock em down to Win
Great for Kids and Adults Uses Soft Nerf Gun.
Incredible Spring & Summer Prices!!
Email for additional Spot Discounts, Include Date, Location & Event Times.

FOR LAST MINUTE BOOKINGS, DAY OF EVENT OR LESS THAN 24 HOURS,
PLEASE TEXT THE OFFICE.
403-651-1019
Info@tubbys.ca