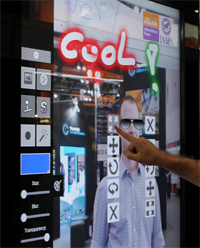 Platinum Photo Booth Packages
Outlets: 3
Age Group: Kids with Adult supervision,Adults
Attendants: 1





Please call or email to reserve this item.

FOR LAST MINUTE BOOKINGS, DAY OF EVENT OR LESS THAN 24 HOURS.
PLEASE TEXT THE OFFICE.
403-651-1019
The posted rate for this product is up to 4 hrs.
If your event runs longer than 4 hrs. the price should change during the checkout process
If you are attempting to book over multiple days it would be best to contact the office to provide an accurate quote that may include any special or discounts available

Air Graffiti Touch: More Fun Than a Traditional Photo Booth
Platinum Photo Booths Start at $995.00 for up to 3 Hours of service.
This system uses a LARGE 55" touch screen Monitor that can be configured in a conventional Landscape position
or
in a Portrait position, resembling a large Smart Phone.
Our Photo Booth is truely more fun than a traditional photo booth, BUT can be used as traditional Open Air photo booth, if you wish.
AIR Graffiti Touch is an interactive attraction that allows the guests to interact with their photos on the touch screen monitor using their fingers. This attraction is based on the same AIR Graffiti Software that is used in the Air Graffiti Wall system.
Air Graffiti Touch is photo booth that counts 3…2..1…
Once the picture is taken and loaded to the screen, guests can draw and manipulatethe image of themselves or others in the picture.
Customize the photo using Stamps, Stencils, Digital Spray Paint .
Change the picture mode/ format.
Add different back grounds, if a green sceen back drop has been used.
Review it, Love it, Print it, Share it.
Or
Guest can simple Pose for Pictures, making use of the well stocked Prop Trunk.
Hamming it up it with Hats, Goofy Glasses, Large glasses, Masks, Latex Animal masks, and Sign Boards.
Just, Pose, Click & Print. Share it.
This system Uses a LARGE 55" Touch Screen Monitor, that encourages engagement and allows multiple users to Create at the same time.
For large Venues where you wish for a greater statement, check out the Air Graffiti Wall
For smaller more intimate events or where space is of concern check out the Basic Photo Booth Package.
Green screen can be added to any package for $100.00
For additional details email us regarding your event and we will craft a quote for you.
PRICES ARE EXCLUDING GST
For package discounts or orders of multiple items send your request,using this link
Some items include delivery, Some do not. Even within the city limits.
All items include set up and take down within the city limits.
Delivery charges may apply on other rentals.
Deliveries to City parks & certain locations, ie downtown, parks, Locations where event location is not accessible for delivery to set up location directly from the delivery vehicle, may be subject to additional charges.
All Non grassy outdoor set-ups for inflatables require tarps and sandbags for anchoring purposes, charges may apply.
A credit card is required to be on file for any additional charges and for Security/ damages for all bookings
We offer different payment options
Visa, Mastercard, Amex,Cash or group/corporate chq. with prior approval.
Credit card transactions are subject to a 3% transaction fee
A 50% deposit is required to secure all bookings, Fully refundable, less a 25.00 fee if cancellation is made 14 calender days prior to the rental.
Cancellations due to weather of orders with a single inflatable are fully refundable prior to dispatch of delivery vehicle.
For orders with multiple items or other than inflatables, follow this link
Full payment/ balance is due 3 buisness days prior to event
Scheduled delivery hours are from 9am-9pm (or 30 min before sunset on outdoor rentals)
Additional Charges apply for delivery / pick up outside these hours.
An optional Damage waiver of 10% will be added to each rental. It is Optional and you can request that it be removed.
The damage Waiver covers any damage that occurs during normal use of the equipment.
Does not include damage due to negligence.
Order minimums of $100.00 apply.
You may still order items of less than $ 100.00.
However there may be additional charges on these items.


Due to use, maintenance and Inventory, item may appear with different colors, designs & or finishes.
Please contact the office and request specific information if required
We rent, only well made, properly designed and built Inflatables, Games & Equipment
for the commercial rental market, from the industry's leading manufactures.

Tubby's will Match or Beat any Quoted or Listed price on the Same or Similar Equipment.
Certain Conditions Apply.
| | |
| --- | --- |
| | |
| | |
| Control Color Size, Blur, Transparency | |
| Branding & White Labeling | Undo / Redo / Clear Screen |
| | Lightning Fast Print Speeds |
| | |
| Green Screen Capabilities | Social Media Publish Options |
| | |
| Cool out of the box Stamps, Can be customized for the theme of event | |
| Cool out of the box Stencils, Can be customized for theme of the event | |
Also Check Out Our:
Slow Motion Video Booths. Make your wedding the hit of the Year.
Video Flip Book Studio. Add a Great Memento For your guests to take Home To reminder them
Of the Special Day or Event.
Video Flip Books, Slow Motion Video Booths, Photo Booths and Air Graffiti are all Fun Ideas for Wedding Rececptions,Trade Shows, Corporate Events, Corporate Branding, Product Branding,Product Launches, Fan Apprection Events and so much More!