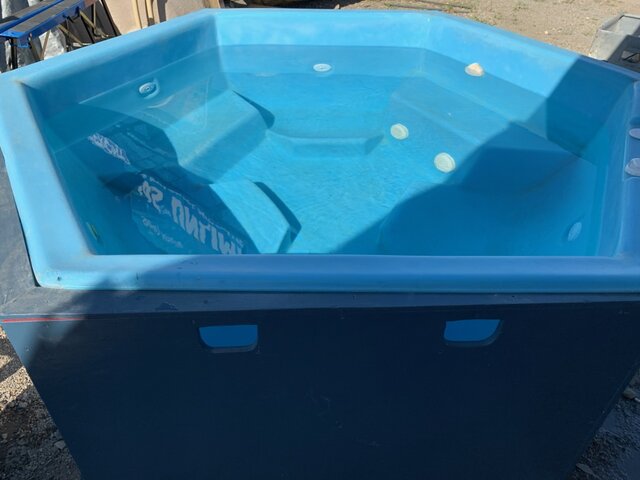 Propane Heated Backyard 5/6 Person Tub Starting at $450.00
Actual Size: 8' x7.5"
Setup Area: 8' x 12'





Open this page for basic prices



This Style of tub is heated by a propane-fired pool heater.
They Heat Quickly & STAY HOT !
Great for Single Day Events
This style of tub is heated by a propane-fired pool heater
They Heat Quickly and STAY HOT.
Great for Single Day Events.

Day rate Mid week starting at $ 450.00
Friday, Saturday or Sunday $ 500.00
Week end rate Thursday to Monday $575.00
Weekly rate $700.00
Includes Propane
For Longer Rentals, we recommend a 2 Circuit Hot Tub.
They are very economical, as they do not require propane
This is day to day rental not specifically a 24-hour rental.
Dropped one day picked up the next day or for the weekend/week, etc.
This picture is of one of our tubs during a minus 30 cold snap.
Running and maintaining 104 F.
A hot tub, not warm bath with friends
Email info@tubbys.ca for more detailed pricing.
Include the date require, location/neighborhood, size of tub.
Portable Back yard tubs are hard shell tubs with molded seats at or near the bottom of the tub
They come off the trailer and sit right on the ground.
They are relatively easy to move, insofar as they can go through a 36" / 3 foot, 0.9-meter wide gate without anything overhead to 96"/8 feet/ 2.4 meters.
From you, we require electricity for the pump/jets 110 volt 15 amp circuit and water.
This type of tub is heated by a propane-fired pool heater.
This means that in colder temperatures the tub can be controlled and maintained.
The cost of heating the tubs is included in the price and not seen on your utility bill
The above quoted rates are for a standard delivery, via a hard pack pathway.
No stairs, No loose gravel / substrate, changes of elevation.
Addition charges will apply for anything other than a standard delivery.

These rates are for in-town bookings.
Email info@tubbys.ca for out of town rates
Include location and dates required
Each additional week comes complete with an additional Propane tank, filter, and replenished chemical kit.
Additional week as per quote
Water change if required starting at $200.00.
Ideal for backyards, these tubs are quite portable.



As with most rental Hot Tubs these tubs are turned on their side for delivery.




The 5/6 person tub requires an access point of at least 3' or 90 cm in width and a pathway of at least the same width.
Overhead access must be at least 88" or 2.2 meters.




We have tubs that can be delivered via Doorways, Narrow Access points.
Contact the office for details.




FOR LAST MINUTE BOOKINGS, DAY OF EVENT OR LESS THAN 24 HOURS,

PLEASE TEXT THE OFFICE.
403-651-1019
Info@tubbys.ca