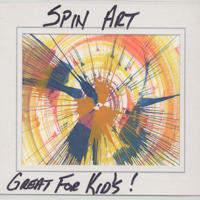 Spin Art Supplies-100, Includes, Paint, cards & glitter
Actual Size: 3' x 2'
Setup Area: 6' x 6'
Outlets: 1
Age Group: Adults, teens, kids with supervision
Attendants: 1





Open this page for basic prices



FOR LAST MINUTE BOOKINGS, DAY OF EVENT OR LESS THAN 24 HOURS,
PLEASE TEXT THE OFFICE.
403-651-1019
Info@tubbys.ca
This is supplies only.
Includes 100 Cards, Paint & Glitter
Spin art
is an
art
form that primarily uses
paint
, a
canvas
and a spinning platform. It is primarily used to entertain and expose
children
to the process of art creation, although it can be enjoyed by people of all ages.

To create spin art, an
artist
initially decorates or drips paint onto a canvas. The canvas can be anything; however, the most common form of canvas is a small rectangular piece of
cardboard
. Before the paint on the canvas dries, the artist secures the canvas to a platform that can be rotated at high speed. Once the canvas is secure, the artist can then begin spinning the canvas.
As the canvas rotates, centrifugal forces draw the wet paint outwards, creating intricate designs. The artist can drip more paint onto the canvas while it is spinning, thus layering paints on top of each other, creating different effects. Using different colors, a skilled spin artist can blend colors together into subtle designs. At any point during this process, the artist can stop the spinning platform to view the canvas. Since the canvas is usually rotating at a high rate, it is difficult if not impossible to view the image on the canvas until the platform has stopped spinning, thus creating a sense of surprise and uncertainty during the creation process.

This event package is for the Spin Art machine, supplies are required to be purchased separately.
Does require an adult to supervise, and 110 volt power.
It is suggested that a hard surface area be used for set up instead of a carperted area.
Be aware, access may need to be restricted for some adults.
As they will want to take over due to Fond Memories from their own childhood come flooding back.
For package discounts or orders of multiple items send your request to
info@tubbys.ca
Delivery may be in addition to the rental of the item.
Deliveries to City parks & certain locations, i.e. downtown, parks, Locations where
event location is not accessible for delivery to set up location directly from the
delivery vehicle, may be subject to additional charges.
All Non grassy outdoor set-ups for inflatables require tarps and sandbags for
anchoring purposes, charges may apply.
Some items require power, Some items require water.
A credit card is required to be on file for any additional charges and for Security/damages for all bookings. This includes excessive cleaning.
We offer different payment options
Visa, Mastercard, Etransfer, EFT, Cash or group/corporate cheque, with prior
approval.
Credit card transactions are subject to a 4-5.5% transaction fee.
A 50% deposit is required to secure all bookings.
Cancellations (deposits) due to weather of orders of a single inflatable are
refundable prior to dispatch of delivery vehicle, less a $25.00 admin fee.
Method of payment for the balance of the invoice is to be confirmed 3 business days
prior to event.
Scheduled delivery hours are from 9 am-9 pm (or 30 min before sunset on outdoor
rentals).
Additional Charges apply for delivery/pick up outside these hours.
An optional Damage waiver of 10% will be added to each rental. It is Optional and
you can request that it be removed from the invoice. Deleting the coverage must be
done prior to the order being confirmed.
The damage Waiver covers any damage that occurs during normal use of the
equipment.
Does not include damage due to negligence.
For cancellations, changes to order with multiple items follow the link below for
complete details.
For complete terms and conditions, including cancellation terms follow this link

Incredible Spring & Summer Prices!!
Email for additional Spot Discounts, Include Date, Location & Event Times.
Due to use, maintenance and Inventory, item may appear with different colors, designs & or finishes.
Please contact the office and request specific information if required