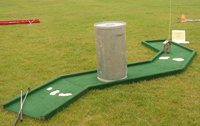 9 Hole Mini Golf Regular Themed Great for everyone. Teens, Adults and Kids. At the Office, for the Community, Family Reunions Starting At. . .
Birthday / Residential Rates
Corporate / Non Residential Rates
up to 4 hours $845.00
up to 4 hours $895.00
up to 7 hours $895.00
up to 7 hours $1050.00

Events are on a quote bases.
Please send details regards the event
to info@tubbys.ca
Time, number of participants,etc

Delivery/ Labor may be in addition
Delivery/ Labor may be in addition
Our best, most challenging Portable Mini Putt, Mini Golf course, what ever you want to call it.

Hole lengths vary from the shortest at 12 feet up to the longest hole at 18 feet.

Including Change of direction holes using L turns, Zig Zags,
High Quality indoor outdoor carpet,
the same carpet that is used at destination
Mini Golf-Mini, Putt golf courses.
Simulated "Rough" or "Sand Traps" through different carpet
creating challenges incorporating into the play surface.
Including a Water Hole with a Floating Green.
Moving Props so timing is also required.
Electricity is required activate moving props
Can be Branded for brand recognition at events
Standard delivery charge, includes Set up and Pick up to a ground level Vehicle accessible location.
Additional charges may apply for location outside of a standard location.
Delivery charge is based on Location, Access and event times.
We can make allowances for, Early Set up, Longer Events, Discount Package Pricing etc.

FOR LAST MINUTE BOOKINGS, DAY OF EVENT OR LESS THAN 24 HOURS.
PLEASE TEXT THE OFFICE.
403-651-1019
PRICES ARE EXCLUDING GST
For package discounts or orders of multiple items send your request to
info@tubbys.ca
Delivery may be in addition to the rental of the item.
Deliveries to City parks & certain locations, i.e. downtown, parks, Locations where
event location is not accessible for delivery to set up location directly from the
delivery vehicle, may be subject to additional charges.
All Non grassy outdoor set-ups for inflatables require tarps and sandbags for
anchoring purposes, charges may apply.
Some items require power, Some items require water.
A credit card is required to be on file for any additional charges and for Security/damages for all bookings. This includes excessive cleaning.
We offer different payment options
Visa, Mastercard, Etransfer, EFT, Cash or group/corporate cheque, with prior
approval.
Credit card transactions are subject to a 4-5.5% transaction fee.
A 50% deposit is required to secure all bookings.
Cancellations (deposits) due to weather of orders of a single inflatable are
refundable prior to dispatch of delivery vehicle, less a $25.00 admin fee.
Method of payment for the balance of the invoice is to be confirmed 3 business days
prior to event.
Scheduled delivery hours are from 9 am-9 pm (or 30 min before sunset on outdoor
rentals).
Additional Charges apply for delivery/pick up outside these hours.
An optional Damage waiver of 10% will be added to each rental. It is Optional and
you can request that it be removed from the invoice. Deleting the coverage must be
done prior to the order being confirmed.
The damage Waiver covers any damage that occurs during normal use of the
equipment.
Does not include damage due to negligence.
For cancellations, changes to order with multiple items follow the link below for
complete details.
For complete terms and conditions, including cancellation terms follow this link
Order minimums of $100.00 apply.
You may still order items of less than $ 100.00.
However there may be additional charges on these items.


If you are attempting to book over multiple days or your event is outside of our Calgary Service area
it would be best tocontact the office so an accurate quote can be provided
that may include any additional charges, specials or discounts available
We rent, only well made, properly designed and built Inflatables, Games & Equipment
for the commercial rental market, from the industry's leading manufacturers.
Tubby's will Match or Beat any Quoted or Listed price on the Same or Similar Equipment.
Certain Conditions Apply.
















Delivery to a non Vehicle accessible location or Off ground Level Location

If the location of your event is more than 130 kms FOB you will be quoted on an up to 7 hour rental.